E xtreme sports and outdoor pursuits, it's time to go out and play. Here are a few options to whet your appetite…
Off-roading
Outside of London, quad biking is a brilliant way to explore the countryside. Traverse hundreds of acres in Surrey with a quad bike, 4X4, or 6X6. With the quad bikes, a large group of friends can split into teams for an off-roading obstacle course. The 4X4 requires deftly maneuvering through difficult and rocky terrain while in the 6X6, four people can rotate the controls of the vehicle and cruise through hills and water.
Horse Riding
I remember riding a horse, once. I was seven at a birthday party; it was terrifying and magical. For those fellow one-time equestrian riders, now is your chance to have another go. There are several horse deals available online, with prices as low as £6 for a private lesson tailored to your needs. These riding schools cater to both beginners and advanced riders. Adults, grab your children, select your favorite steed, and mount up.
Supercar Driving
For a different type of horsepower, get behind the wheel of a supercar and drive it around the track. With Experience Limits, run laps in your choice of three cars. Lamborghini Gallardo, Ferrari F430, Aston Martin DB9, and Porsche 911 Turbo are just a few of the elite cars in their fleet. If those don't sound interesting to you, there is the option of some grass-based lunacy by trying out their new hovercraft. Boss status, granted.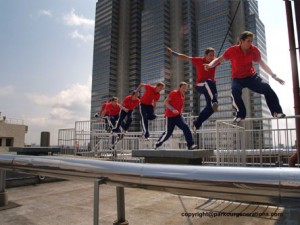 Parkour
Parkour is a discipline. It's the art of navigating from one place to another, all while interacting and playing with your surroundings and impending obstacles. You may have seen online videos of a practitioner (a man is a "traceur" and a woman is a "traceuse") scaling a wall or somersaulting wildly in the air and wondered how they can do that. Now is your chance to find out. Parkour Generations offers 1.5 and 2 hour classes seven days a week. They have specialized classes for family and women, as well as beginner and advanced courses. Classes are held both in specially designed gyms and outdoors.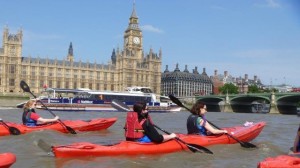 Kayaking
When I went on a tour of London, I walked by foot for three hours, navigating slowly around the city. And there's nothing wrong with that. But for a different perspective, join London Kayak Tours and see the city by boat. You'll paddle a kayak through the Thames and canals all while spotting landmarks like Windsor Castle and Hampton Court Palace. At the end, sip on a glass of bubbly to top off a successful kayaking experience. Cheers to that!