T he pristine mountains of Lake Tahoe make an ideal place for skiing, biking and hiking! When the snow is melted and the weather is warm, it's time to start blazing the trails. Whether you're looking for a easy and leisurely day hike or you're ready to break a sweat on the tough trails that pay off with amazing views of the Lake and surrounding mountains, there's definitely a trail for you. Hiking is one of the best things to do in Lake Tahoe three out of four seasons, and with over 300 days of sunshine this area receives every year, you can surely get in a hike or two while you're here.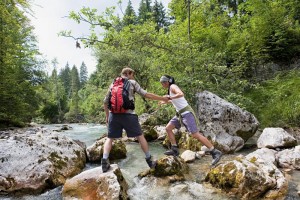 PAIGE MEADOWS
This may be more of a walk than a hike in Lake Tahoe, which might be just what you need to start off your morning or end your day in the area. These mountain meadows are tranquil and beautiful and beaming with wildflowers from June to August. Dogs and kids are more than welcome on this stroll, and there's no need for any hiking gear: tennis shoes and scrunchies will suffice for your equipment needs on this Lake Tahoe hike.
Level: Pretty darn easy.
CASCADE FALLS
One of the best hikes in South Lake Tahoe! This trail gets very crowded on summer weekends, which does prove it's a great hike, but also means it's a great hike for the morning time to avoid all the other wannabe athletes. Start at the Bayview Trail and you'll see a wooden sign pointing to the Falls. Once you get to the Falls, you can hike up the stream for even more privacy. Make sure you bring your camera for all the nature vista photo ops, and if you want to be in them, maybe do put that make up-on, or at least wash the sleepies out of your eyes pre-hike. Either way, you'll want some photos to take home with you from this one.
Level: Some parts of this trail are tough, but hey, that's life, and those parts don't last long on this trail!

MEISS MEADOWS OVERLOOK
One of the less popular hikes because most hikers are trekking to Echo Lakes in this area, Meiss Meadows heads South from Echo Summit and is still mild enough to make the perfect start to a vacation morning. All the colors and scenery are especially nice in when the leaves are changing, and always nice if you want a hike abundant with wildlife. You'll start off slow, but after you cross a footbridge you trek an uphill incline to the Overlook. Starting off slow and gradually upping the difficulty is a great way to get into the groove of things in the morning.
Level: Mild for the most part, but eat your wheaties first.
HORSETAIL FALLS
Waterfall hike, anyone? Make sure you take your morning bathroom break before you set out on this one of course, and then get ready for more than just a mild hike, but one that is well worth it. Horsetail Falls is one of the easiest waterfalls in Lake Tahoe to get to. The trail is only 3 miles round trip, but there are some steep parts going both ways. The waterfall is well worth a small potential slide down the mountain or two. Be careful near all the wet rocks!
Level: We wouldn't recommend this with a hangover, or for your overly-prissy girlfriend.
ROCK CLIMBING
If hikes aren't really your thing, there is also some great rock climbing in Lake Tahoe perfect for summer mornings. The cliffs at Wrights Lake, Luther Rock and Luther Spires, and Eagle Creek Canyon are all perfect for early morning climbs, because the blazing sun doesn't hit the rocks until early afternoon. We especially recommend Eagle Creek Canyon for vacationers, because there are climbs for every level of expertise.
There's no better way to start, spend or end a day in Lake Tahoe than with some fresh air and friends. Take a buddy or put the dog on the leash, or your kids on the leash if you're one of those parents, and take a hike in Lake Tahoe. Be sure to ask the people working at your Lake Tahoe hotel where their favorite hiking spot is, because depending on where you're staying, you might not always get the same recommendations! The scenery itself is worth setting your alarm an hour early for, and you'll beat the crowds and the heat that are inevitable in the summer months on these hikes.
This article was written by Lizz Riggs, editor of TahoesBest.com.