Q ueensland in Australia is located in the north east of the country and is bordered by the northern territory, south Australia, new south wales and the coral sea.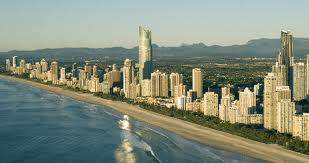 Whether you're a city lover, landscape lover or someone who enjoys the immense isolation, then Queensland has something for everyone.
Most of the entire population of the region is based along the coastline near beaches. If you are a party goer then the beaches at the Gold Coast will provide you will all you need. Surfers paradise specifically has been hugely popular with tourists and backpackers for decades.
For those of you that are looking for something a little quieter, then Coolangatta in the South part of the Gold Coast is probably where you need to go. Kirra bay and Rainbow Bay are a more relaxed affair and can be enjoyed all year around.
Moving inland a little, you will find rolling farmlands, picturesque towns, vineyards and rainforests that can be hiked to your hearts content.
Heading up north past the Gold Coast, you enter the Sunshine coast. This is way more relaxed than the Gold coast and is more family and couple oriented. Here, there are a multitude of sights and things to do. Steve Irwin's Australian zoo and the glasshouse mountains national park can be found there.
Some great flight deals to the likes of Brisbane in Queensland can be found online as places such as flightnetwork.com. Many airline operators provide a huge schedule of international flights to and from Brisbane.
If you decide to venture even further north, then you'll be rewarded with the Whitsunday islands which are world famous for their glistening white sandy beaches and exotic blue waters. There are plenty of opportunities to do some wildlife spotting around here for those enthusiasts.
The great dividing range runs the length of Queensland and separates the lowlands from the dry interior – otherwise known as the outback. The west of this great dividing range is the start of the outback, that we've seen on movies. Gorgeous red dusty roads as far as the eye can see, and occasional cattle stations pebble dashed sporadically across it makes up the general landscape of this wonderful region.
The outback is so vast and empty that you really need to experience it in order to appreciate how massive it actually is. There are many outback tour companies in the region who will provide you with an exhilarating glimpse of the area.
All in all, Queensland has plenty to offer everyone from casual backpackers, to family tourists. It's definitely worth thinking about visiting whenever you get the chance.